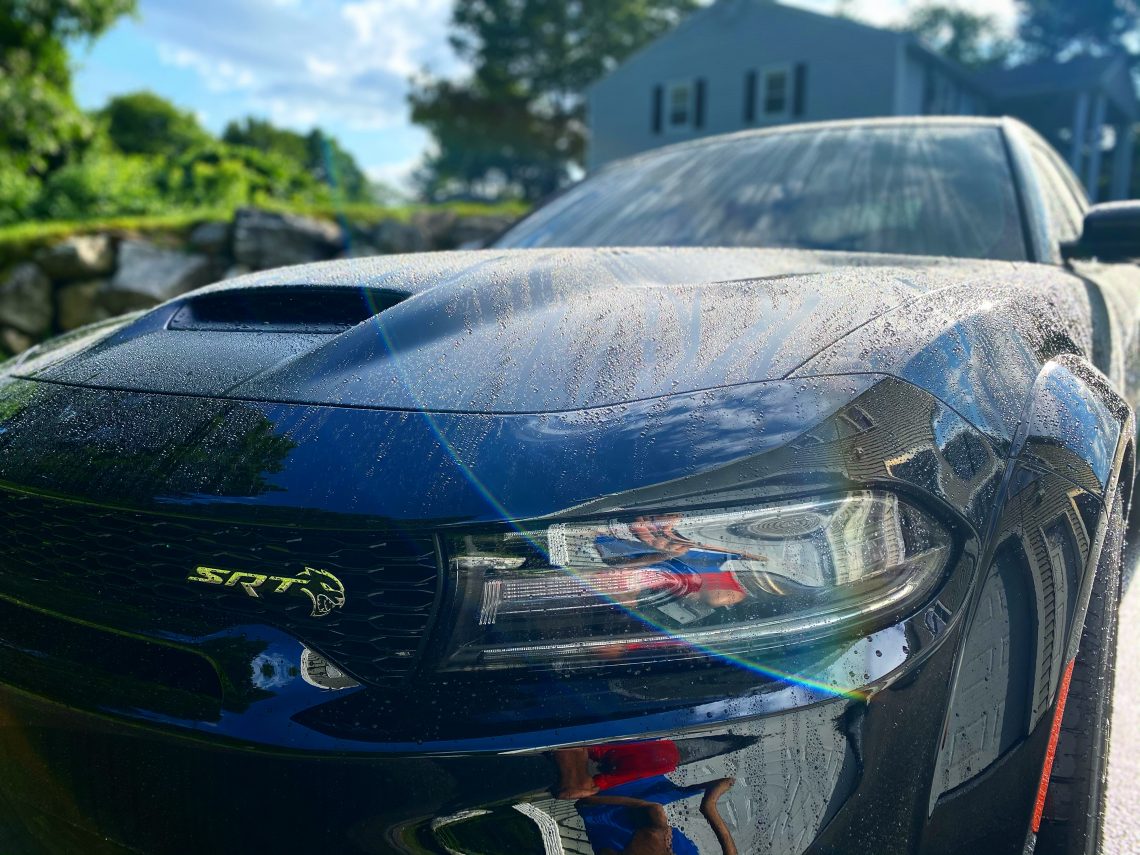 This car just looks menacing when it pulls in the lot! The Dodge Charger Hellcat Redeye boasts 797 horsepower and sprints from 0-60mph in a mere 4.0 seconds. It is safe to say that this car may encounter road debris traveling at a rapid pace. This is the reason that it was brought to Cover Up Solution to get a paint protection package. Before we can get started though, we need to thoroughly clean and decontaminate the car so that we can the paint correct any flaws before beginning to install the ppf.
Once the surface is decontaminated and corrected, we installed XPEL Ultimate paint protection film. XPEL Ultimate is a high performance clear-coat film, specifically designed to protect automotive paint, and other surfaces, from contamination, UV rays, minor chips and abrasion. We followed the paint protection installation with a ceramic paint coating using XPEL Fusion Plus. Fusion Plus is a ceramic coating you can count on. Purposely developed to perform with PPF & painted surfaces, this coating offers unrivaled gloss, superior hydrophobic protection, and improved scratch resistance with a single application.
Finally, we installed XPEL Prime XR window tint to complete the look on this car. Not only does this film look great, it also give terrific performance against excessive heat and glare and helps protect the interior from sun fading. Utilizing a nano-ceramic construction, Prime XR maintains the same flawless appearance and clarity throughout the years. Blocking up to 88% infrared heat rejection, PRIME XR will provide you with the level of performance you expect from a top-of-the line automotive window tint without breaking the bank.
Take a look at this brief walk-around video once we were competed. You can see why CDJR of Claremont brought this to us to be taken care of. It looks awesome and now is protected to take on what the road may throw at it.
Hopefully this post gives you some insight into why so many people choose Cover Up Solution in Salem, New Hampshire for automotive paint protection film, ceramic paint coating and window tinting needs. If you have any additional questions about the family of XPEL products that we offer, contact us by calling (603) 235-9319 or fill out a form at Contact Cover Up Solution. We service the entire greater Salem, New Hampshire area and look forward to serving you!